English Curriculum
Since 2016-2017, the school has implemented a new English curriculum namely "Space Town" literacy programme which was designed and developed by the Advisory Teaching Team NET Section, CDI, EDB.
In Space Town, the teacher's role is not solely to teach literacy but to guide students to empower themselves with the life-long skills necessary to become self-directed learners. The aim of Space Town is to develop students' four language skills (reading, writing, speaking and listening) as well as other learning skills through this sustainable Primary Literacy Programme.
A language-rich environment is critical and crucial to facilitate students in learning English effectively and confidently. In Space Town, students have four lessons every week to learn with native English-speaking teacher which accounts for half of the weekly lessons. Students are given more opportunities to apply English in reading, writing and other language activities. Moreover, students are provided with books with different themes and topics regularly. Students' reading interest and ability can be enhanced. Through Reading Town Apps, students can listen to stories, do online reading and recording and play vocabulary games. Students can learn English in an interesting way at school or at home independently.
In response to the recent educational development of Self-Directed Learning and E-learning, the school has adopted a new English textbook namely "READY" which was designed and published by Oxford University Press. Through meaningful pre-learning activities and online interactive learning platform, students' learning motivation and confidence are greatly enhanced. They are able to develop the knowledge and skills in a more interesting as well as effective way. Students are also given the chance to expose to different text types and genres.
Reading Town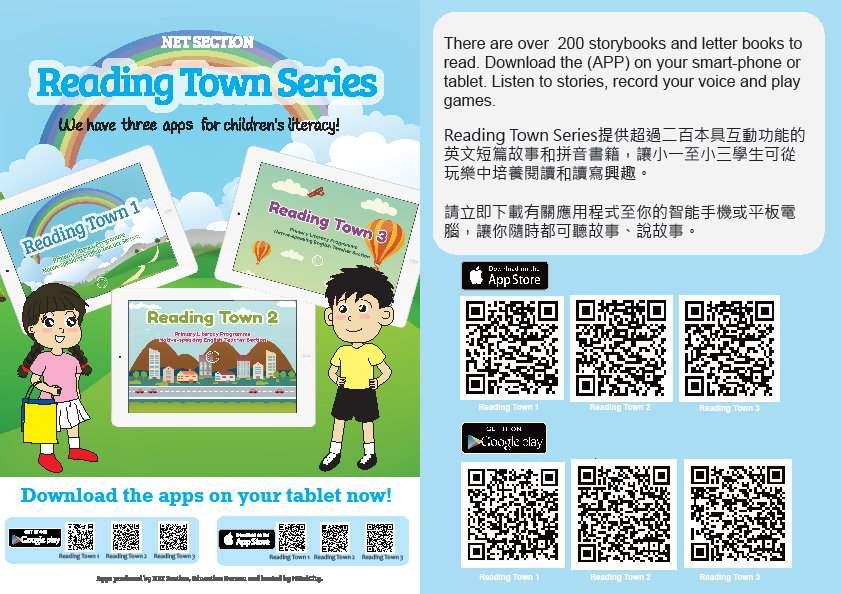 Related QR CODE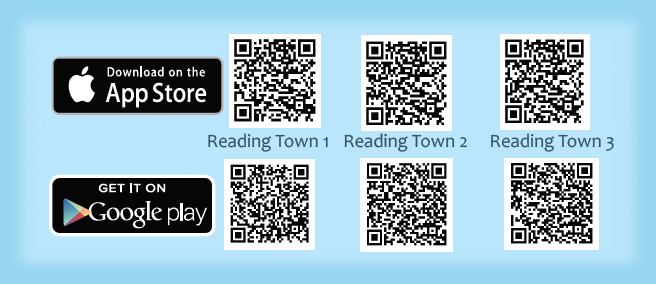 Features of our English Lessons
Features of our English Lessons​
Cater for learners' diversity through small group learning

Arouse interest and motivation through E-learning, games and various activities
English Activities for Fun & Leisure
English Activities for Fun & Leisure
In order to provide an English-rich language environment and encourage our students to use English outside classrooms, the English Department has organized various diversified activities. Besides building up their competence on four language skills,we are eager to enrich their learning experience and enhance their motivation and interest in learning English.
| | |
| --- | --- |
| English Week | 英文周 |
| Lunch break activities | 午間活動 |
| P6 TOEFL JUNIOR TEST | P6 英文托福考試 |
| Excursion | 外出活動 |
| P1 Fashion Show & Games | P1 時裝秀及遊戲日 |
| P1 "Go for it" Tutorial Class | P1 英文加油站 |
| P2-3 Choral Speaking Team | P2-3 集誦訓練 |
| P3 Creative Writing Class | P3 創意英文寫作班 |
| P4-6 English Drama | P4-6 英文話劇 |
| P4-6 English Ambassadors | P4-6英語大使 |
| **Cambridge English | ** 劍橋英語 |
** 周六興趣班課程
P1-2 Show Choir
"Show Choir" is an English learning activity comprising of movement, music and drama elements. Students are able to develop their listening and speaking skills through singing, dancing and acting in a relaxing and enjoyable learning environment. Performances are arranged for students to present their learning outcomes and enhance their self-confidence and motivation in learning English.
English Games Day-English Wonderland
The Games Day is related to Chinese New Year so as to reinforce the learning of Chinese culture. Students are able to learn more vocabulary about Chinese New Year through participating in several games booths, such as Tongue-Twister, 12 Chinese Zodiacs and introduction of Chinese Year Food. The game booths are held by Native English speakers to encourage students communicate with the Native English Speakers naturally.